There are those who've argued that only Palestinian people can tell the story of the Palestinian experience, only Black people, the Black experience and so on. For members of one group to describe what they've observed of another is thought to be presumptuous, even racist, a theft of one group's narrative by members of another—a further victimization by the oppressor of the oppressed.
Is this true?
And!
Does it move us toward the recognition of the Palestinian people as first and foremost, human beings and therefore to be accorded the right to make a living, to raise and care for a family in relative safety? Does it move us toward a restoration of land stolen from them? Does it stop the ongoing theft of their land through a policy of continuing settlement expansion in place for the past 70 years?
The argument above suggests we are capable of knowing first hand other people's experiences and that only those within a particular group, based on some combination of nationality, race, religion and shared history have the credentials to speak to it.
Is this true?
It can' be true. We all understand this from personal experience. But since we seem to have forgotten perhaps a reminder is in order.
Think about it. What occurs in my life, what occurs in your life is first hand. It is you who has your experience, no one else. Even in events we share your experience will remain different from mine. You cannot live my life and I cannot live yours.
The human body is unique, no two bodies are identical, and all body's generally, have sentience, that is, they access information through the five senses: touch, taste, smell, hearing and sight. As a result we are only fully aware of our own direct experiences. We cannot live another's life as we do our own. It is simply impossible.
How then do we know what it is really like for another human being? The fact is, we don't and can never really know. The closest we ever come to knowing another person's reality is through observation and the sharing of stories, our individual and personal stories with one another. But, it remains vicarious, an approximation, never completely accurate and never the whole truth of it.
Stories are important, they're how we make sense of our world. It is our personal experience that gives rise to our personal story, which includes what we think about it. This story is usually imbedded in a larger story shared by the family, which is housed in an even larger story, the story of a nation, a people, and those stories fit within a global story, the story of us as human beings.
If we are indeed alone in our personal experiences, how then, do we notice others and respond to them? What moves us about their suffering, why is it some of us can do nothing other than respond with kindness and generosity?
The truth is we are human and we understand the nature of suffering from personal experience. Buddhas observation is true for all of us. "Life is filled with suffering." No one escapes suffering, it comes with a birth. We recognize this not because we are Palestinian, American or Canadian, but because we're human.
If a Jew offers help to a Palestinian should it matter? If a Palestinian offers help to a Jew should it matter? When we are moved by the suffering of others, how can we do anything but respond? We may not—according to those in the know—be the right color, or share the same beliefs: on this we will, of course, differ. What we do share, however, is an awareness of suffering and a natural and spontaneous response to it.
If you're in desperate need of help, I will help you if I can. Does it matter the color of my skin or what the help looks like?
Anyone who has ever been part of a boat crew understands the meaning of "All hands on deck!" When life is in the balance, when starvation is present, when violence kills and maims, when human rights are violated, international law flouted and injustice prevails—and we're aware of it, we will act, we will do what we can to be of help.
And, that help, when it comes will be different, as different as the humans that offer it and those of us who offer will offer only what we have to give. And, because we are so different, with different skills and different gifts—also an accident of birth— we weave a collective response and it is that collective response that moves mountains. What cannot be done by any one person alone, is done with many.
And, what of the idea of theft, as in theft of a narrative?
When a Jew writes about Palestinian experiences, even one's they may have shared, does it mean he's stealing the Palestinian narrative?
Which brings to mind an event on the general topic of honesty in writing. Some years ago I read a book, by a well known author. In the process I learned a lot and will not soon forget it. It touched me deeply and I was asked to write a review. In it I added some thoughts of my own on the subject, a topic with which I was quite familiar.
Several months later I happened to see an article in a national magazine written by the author in question. Toward the end of the article, I noticed his words seemed strangely familiar. When I looked closely I realized he'd lifted the words from the review I'd written, two paragraphs identical in every way. He had offered them as his own. Plagiarism it's called in academic circles!
I thought about it. Having read his book it was obvious we were both concerned about the same thing. Because he was famous, it was also clear people listened to him. He had a far wider audience than me. What was my greater interest? To be recognized for the words I happened to use or was it to contribute to the discussion?
The god's unerringly bring forth their ideas and none of us, it turns out, are truly the authors. We writers are scribes and sometimes the gods deliver their ideas with a smile and a nod to the ego, knowing we will still do our best.
---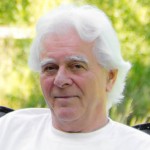 By Colin Mallard,
Author of "Stillpoint a novel of war, peace, politics and Palestine."