A recent article in the Jewish Telegraph featured author Michelle Cohen Corasanti and profiled the history behind her decision to write The Almond Tree. You can read the full article below or click the image to download a PDF copy.
Michelle uses appliance of science for tale of Palestinian brothers
by Simon Yaffe
Michelle Cohen Corasanti grew up in a Zionist family in upstate New York with no knowledge of the conflict in the Middle East.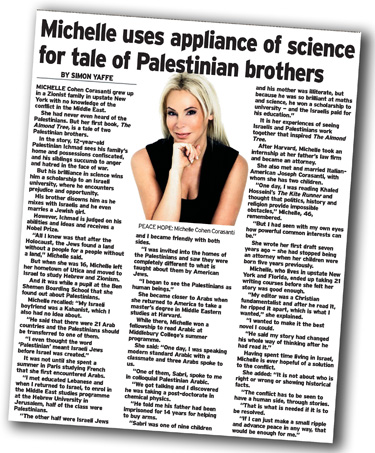 She had never even heard of the Palestinians. But her first book, The Almond Tree, is a tale of two Palestinian brothers. In the story, 12-year-old Palestinian Ichmad sees his family's home and possessions confiscated, and his siblings succumb to anger and hatred in the face of war. But his brilliance in science wins him a scholarship to an Israeli university, where he encounters prejudice and opportunity. His brother disowns him as he mixes with Israelis and he even marries a Jewish girl. However, Ichmad is judged on his abilities and ideas and receives a Nobel Prize.
"All I knew was that after the Holocaust, the Jews found a land without a people for a people without a land," Michelle said. But when she was 16, Michelle left her hometown of Utica and moved to Israel to study Hebrew and Zionism. And it was while a pupil at the Ben Shemen Boarding School that she found out about Palestinians. Michelle recalled: "My Israeli boyfriend was a Kahanist, which I also had no idea about.
"He said that there were 21 Arab countries and the Palestinians should be transferred to one of them. "I even thought the word 'Palestinian' meant Israeli Jews before Israel was created." It was not until she spent a summer in Paris studying French that she first encountered Arabs. "I met educated Lebanese and when I returned to Israel, to enrol in the Middle East studies programme at the Hebrew University in Jerusalem, half of the class were Palestinians.
"The other half were Israeli Jews and I became friendly with both sides. "I was invited into the homes of the Palestinians and saw they were completely different to what is taught about them by American Jews. "I began to see the Palestinians as human beings." She became closer to Arabs when she returned to America to take a master's degree in Middle Eastern studies at Harvard. While there, Michelle won a fellowship to read Arabic at Middlebury College's summer programme.
She said: "One day, I was speaking modern standard Arabic with a classmate and three Arabs spoke to us. "One of them, Sabri, spoke to me in colloquial Palestinian Arabic. "We got talking and I discovered he was taking a post-doctorate in chemical physics. "He told me his father had been imprisoned for 14 years for helping to buy arms. "Sabri was one of nine children and his mother was illiterate, but because he was so brilliant at maths and science, he won a scholarship to university — and the Israelis paid for his education." It is her experiences of seeing Israelis and Palestinians work together that inspired The Almond Tree.
After Harvard, Michelle took an internship at her father's law firm and became an attorney. She also met and married Italian- American Joseph Corasanti, with whom she has two children. "One day, I was reading Khaled Hosseini's The Kite Runner and thought that politics, history and religion provide impossible obstacles," Michelle, 46, remembered. "But I had seen with my own eyes how powerful common interests can be."
She wrote her first draft seven years ago — she had stopped being an attorney when her children were born five years previously. Michelle, who lives in upstate New York and Florida, ended up taking 21 writing courses before she felt her story was good enough. "My editor was a Christian fundamentalist and after he read it, he ripped it apart, which is what I wanted," she explained. "I wanted to make it the best novel I could. "He said my story had changed his whole way of thinking after he had read it."
Having spent time living in Israel, Michelle is ever hopeful of a solution to the conflict. She added: "It is not about who is right or wrong or showing historical facts. "The conflict has to be seen to have a human side, through stories. "That is what is needed if it is to be resolved. "If I can just make a small ripple and advance peace in any way, that would be enough for me."