The Almond Tree, Reviewed by Tanushree Sharma Sandhu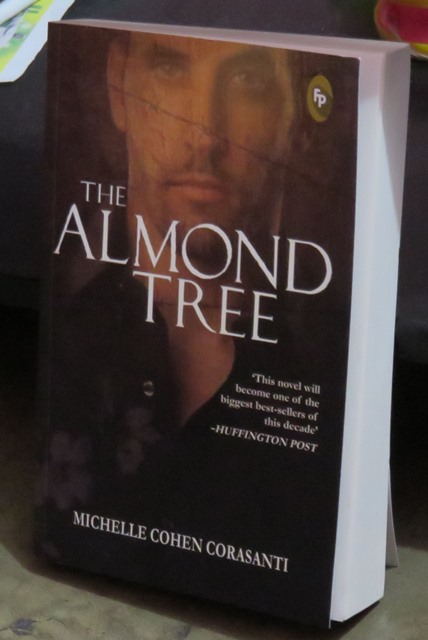 It's a well spun tale of friendship, kinship, love, brotherhood, parenting…all woven in simple yet very effective language. Food for any soul longing for grit, determination, optimism, HOPE and BELIEF….This is what best defines The Almond Tree, a debut novel by Michelle Cohen Corasanti, a Jewish American.
She writes in this book, "Courage, I realized, was not the absence of fear: it was the absence of selfishness; putting someone else's interest before one's own."
After having seen and felt tragedies, struggle, troubles and worries of war affected and war prone countries, she has managed to pen a sensitive and thought provoking novel. The underlining theme of this book is to see (in troubled Israel-Palestine) the rising sun without any dust of bombing, killings or brutality.
For a debutant, dealing with a prevalent and most burning issue of Israel-Palestine, with utmost sensitivity deserves a marked accolade.
If books, as an old adage, are a man's best friend then this one can be a mutual companion for Israelis and Palestinians.  The clouds of mistrust, hatred, misunderstanding, which have created immense tension between the two communities, two countries might get busted (it is all about HOPE) giving a new perspective to the respective natives and the world by large.
It is a tale of courage calling humanity to always stand for right and against wrong, urging to break preconceived notions about something and someone!
Like, when the protagonist is offered a sugar doughnut that his father was given at work by his Israeli friend Gadi, the son asks, "Is that poison leaking out."  To which his father replied, "Why, because he's a Jewish­? Gadi's my friend. There are all kinds of Israelis." The father sums the conversation with, "One cannot live on anger, my son."
The illustrative narrative transports one to a different world. Like when the author narrates, "A brass tray of coloured tea glasses scattered sunlight that streamed through the open window like a prism."
Simultaneously, it fuels in a feeling of empathy and puts forward a call for peace, love and humanity as the story unfolds.  It has been written with such effectiveness that the heart goes out for the suffering souls.
The pain and terror can be felt in lines like, "Then I realized Amal wasn't gone. I could see something. I could see her arm. It was her arm, but her body was torn up like her doll after our watchdog ripped it part. I opened my mouth and screamed so loud I felt like I was going to split in two."
It is a story of Ahmed Hamid, the protagonist, who took claim of his own life to follow a course of peace (within himself, for himself and his family) away from political unrests, communal clashes, unfavorable circumstances and tragic incidents.
The chain of events like death of his siblings, forceful evacuation of his family from their ancestral home, his once happy city being turned into a war zone; precisely everything was far away from comfort and peace. And now all that life had to offer was fear, terror and struggle.
All hell broke loose when his father was falsely implicated and imprisoned. On the very day when after months of suffering everyone was in a good mood celebrating Ahmed's twelfth birthday.  Life took a turn and the innocent little boy had to take charge of his and his family's life.
Amidst lack of opportunities and age constraint he was left with a few options.  One of them was working for the enemy. When asked by his concerned mother how will he manage to work for the Jews and build houses for them at such a young age, he replied, "Good things make choosing difficult. Bad things leave no choice."
And from here starts his journey… The path which he took had its many ups and downs.
But what kept his spirit undeterred and strong was adapting his father's positive and unwavering attitude. Also the letters written by his father from jail were not mere words but a bundle of strength and zeal that kept him going.  A puzzled Ahmad once asked him that how he manages to do so in such challenging and troubled situations, to which his reply was, "When he was with people, he always tried to find common interests…."
In this journey his younger brother Abbas agrees to walk hand in hand, but a fragile and fickle minded Abbas is manipulated and pitted against his own brother whom he once loved very much.
The resentment and difference in ideology between the two brothers is evident when Ahmad starts studying and working with his Jewish class fellows and professor.  To which Abbas says, "You betray Baba and me and our dead siblings when you befriend our persecutors. They must pay for what they've done. ..To which Ahmad replies, "If we avenge with their actions, we'll be even with them, but if we forgive them we'll be ahead."
"I hate them."
"Hatred is self-punishment. Do you think they're feeling bad because you hate them?"
"If I let go of my hatred, will they release Baba, relieve my pain and bring back Amal and Sara?"
"Will holding onto it accomplish those things?"
"I don't know who you are anymore."
The last straw in the series of disagreements between the two was when Ahmad married Nora, a Jew girl, whom he met in the US during his further studies. Their home coming as a couple was clouded with distress of Abbas leaving the home forever.
The initial apprehension of having a Jewish daughter-in-law was soon eased when Nora emerged to one and all as a person who well regarded humanity amongst anything else.
Nora, a strong headed woman is of the opinion that, "… if you stick together, it'll be easier-you won't have to be alone."
About marriage she believed, "…a great marriage doesn't come from merely finding the right person, but by also being the right person…
But this happiness was short-lived in Ahmad's life.  And he being a true fighter bounces back to have a face-off with life and its challenges. In the book it is very well said by Ahmad's teacher that, "A man never quits until it is over."
Once again he sets out to another journey in search of his apparently misguided brother who is now a wrinkled, aged man residing in Gaza. Overcoming the ordeal to reach there and finally the rendezvous shakes Ahmad's soul…
Towards the end of the journey he says, "My childhood taught me that steady drops pierce rocks. I've learned that life isn't about what happens to you, but about how you choose to react to it…..
This book clearly puts across the message that a lot can happen with right approach towards people and situations. In the moment of struggle and unrest the greatest victory is over one's own restlessness, the need is to wage war against one's own precarious thoughts and biased judgments.
 Reviewer – Tanushree Sharma Sandhu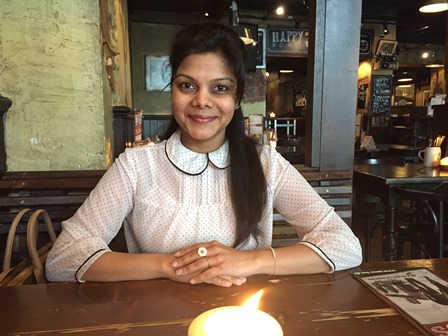 Tanushree Sharma Sandhu is a freelance writer. She has worked as a radio jockey and a TV presenter. Writing poems and human-interest features is something she simply loves. As an audience she has been part of many theater groups, but was fortunate enough   to work and act in plays with The Asmita Theatre Group. Voice-modulation landed her in the world of voice-overs. It has been an amazing journey for her so far. So to say, she is a creative person who loves to dream and explore, and is someone who is completely in love with life!