The Almond Tree By Michelle Cohen Corasanti
A Book Review by Tannaaz Irani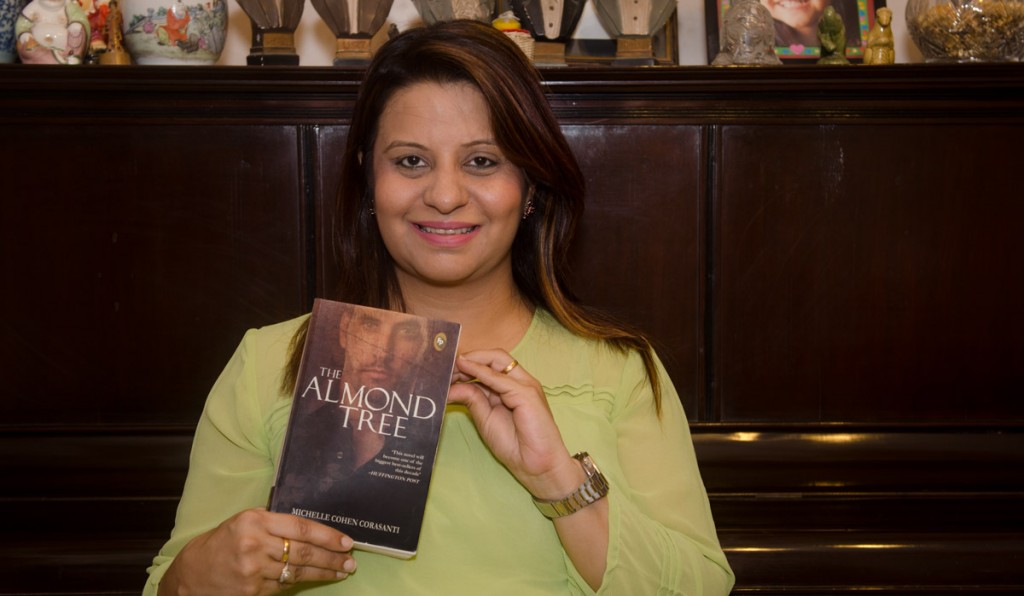 This is a story about a Palestinian from boyhood till the time he becomes a grandfather, spans his life story in two vastly different continents, seeing dramatically different lifestyles in each. It is a boy's journey — the travails he goes through to get where he does through sheer dint of courage and grit, forbearance, willingness to take on responsibility and following his heart which guides him on the ideal path to his own personal salvation and that of his family. Here is a boy who rises from the depths of despair into an adulthood in which he sees a better life for himself and provides a better life for his family in the homeland.
The story is set against the backdrop of the Isreali – Palestinian conflict right from 1955 when the story unfolds upto 2009 when Gaza is in a deplorable state.
The story opens showing the narrator's (Ahmed Hamid's) family living in an Israeli occupied village, but on their own land. They have orchards and their father Baba was a rich man. After Ahmed are Abbas, Nadia, Fadi, Hani, the toddler Amal and later baby Sara. Their property is cordoned off and nobody is to step beyond the cordoning as there are land mines buried there; but naughty toddler Amal tarries into the field and is blown up, which is where the story starts.
Soon after this incident, Israeli soldiers take over Ahmed's home and land along with their orchards and livelihood, give them half an hour to pack; and march them off to a little one roomed shanty hut on the top of a hill, where they all must live. Outside is an Almond Tree which bears witness to all the trials of the family, which feeds the family of its fruit, and which is a playground for the boys who sit in its branches to think about life, to watch the enemy through a telescope or just spend hours fraternizing.
Baba is an artist and is a master at playing the oud and backgammon which he teaches his son Ahmed who becomes unbeatable. Ahmed is brilliant. He has a gift for Mathematics and Science; often when he has nothing to do, he solves complex problems mentally, and is an ardent admirer of Einstein. He is the most promising student of his village school.
One night when the family is asleep after the curfew a life altering incident occurs. Ahmed is restless when he hears footsteps outside. After ascertaining that it cannot be a soldier, he goes to investigate. The marauder is the original occupant of the hut, now a Palestinian terrorist and at gun point he makes Ahmed bury weapons on the property. Ahmed thinks the safest place is under The Almond Tree and the weapons are buried there with his help. Ahmed thinks to himself that he will move them elsewhere, but before he gets the chance to do so the Israeli soldiers are onto him and arrest Baba calling him a terrorist. They kick and beat him brutally and take him away to be detained at a prison in the remote desert. He gets sentenced to 14 years. When Ahmed learns of this he goes to visit Baba and confesses. Baba makes him swear that he will not tell anyone, and he must now be the man of the house. Ahmed and Abbas work as daily labourers and Muhammed Ahmed's teacher tutors him after work.
One day, his teacher tells him about a Mathematics contest that could win him scholarship to University. Ahmed takes part and wins. Baba urges him not to miss out on the opportunity. Ahmed goes to University and does brilliantly. Before he graduates he is thrown out on framed charges of cheating to pass an exam, by one Professor Sharon who turns out to have been an Israeli soldier who arrested Baba. One of his friends helps clear his name and Ahmed is called back to the University as Sharon's assistant. Ahmed propounds radical theories that Sharon does not like, but has to admit to the correctness of. Ahmed and Sharon slowly grow close and become the best of friends, an Israeli and a Palestinian. Ahmed grows from strength to strength and gets his Doctorate and with Baba's blessings takes a job in America. There he meets Nora an American Jewish Activist who wants to do ameliorative work on the Gaza strip. He marries her. Ahmed's life is changing but he sends money home now and his family is better off in a cement house; once more right there, right near the Almond Tree. When they visit the village for the Islamic ceremony, under the Almond Tree Nora tells Ahmed to promise to tell his story; which is told in the book.
The book then goes on to its conclusion with Ahmed's brother Abbas being untraceable, but actually in the Gaza strip, and he has joined Hamas. His son is as brilliant as his uncle but cannot get out of Gaza to study in the U.S. Ahmed who goes there with his second wife Yasmine cannot get him out even with Sharon's connections. Against a backdrop of Palestinian and Israeli politics the book draws to its conclusion and Ahmed sits under the Almond Tree and remembers his promise to tell the tale.
The story is brilliantly written, and leaves you emotionally shaken. It makes one realize that irrespective of religion, a sufferer is a sufferer; a victim is a victim. The Israelis inflicted unspeakable atrocities on the Palestinians and sowed the seeds of Hamas, a terrorist organization with suicide bombers. It is mentioned that when a community is pushed against the wall without recourse to any other weaponry they take to becoming suicide bombers. One can actually see the plight that has made these people terrorists. Though terrorism is wrong you can see where they are coming from. Conversely the persecution of Jews throughout History and primarily in World War II made them almost genocidal against Palestine by wanting more of Palestinian land, as Jews from all over the world flocked to Israel after the Holocaust.
The book is extremely thought provoking and fantastically plays out the sociopolitical dynamics of the latter half of the twentieth century in Palestine. The imagery is vivd and the author is very talented to have brought out a book so emotive, so raw, so gut-wrenching in content. It leaves you feeling that you really cannot judge anyone. Wounds go far too deep.
In the cause of humanitarianism I can only say, we all need to forget, let go and have a new beginning.
Here is the original link of Tanu's Corner : http://www.tanus-corner.com/blog—book-reviews/the-almond-tree-by-michelle-cohen-corasanti