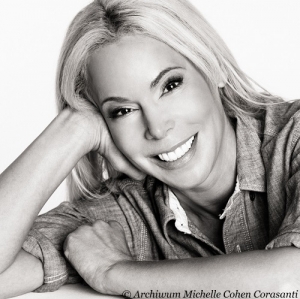 Please note: The interview in Polish can be found below followed by the English translated (by Google) version of the interview.
Michelle Cohen Corasanti – urodzona w USA w 1966 roku, w konserwatywnej rodzinie żydowskiej, jest absolwentką studiów bliskowschodnich na uniwersytetach w Jerozolimie i Harvardzie. Prawniczka specjalizująca się w prawie międzynarodowym i prawach człowieka. Mieszkała we Francji, Hiszpanii, Wielkiej Brytanii, Egipcie i Izraelu. Drzewo migdałowe z 2012 roku to jej pisarski debiut, który ukazał się w Polsce nakładem wydawnictwa Sine Qua Non, pod patronatem naszego serwisu.
Czy jest to Pani pierwsza wizyta w Polsce i czy to prawda, że ma Pani polskie korzenie?
Tak, to moja pierwsza wizyta w Polsce. Jestem z pochodzenia Polką w jednej czwartej albo w trzech czwartych – zależy, czy Białystok, z którego pochodzili pradziadkowie ze strony mojego ojca uznać za część Polski. Moi pradziadkowie przyjechali do Stanów pod koniec dziewiętnastego wieku. Pradziadkowie ze strony ojca byli piekarzami w Białymstoku. Trzy pokolenia mojej rodziny prowadziły piekarnię w polskiej dzielnicy Nowego Jorku. Tu gdzie mieszkam w Stanach mamy dużą polską społeczność.
Czy mogłaby Pani opowiedzieć pokrótce czym zajmowała się Pani w ostatnich latach, tzn. przed ukazaniem się "Drzewa migdałowego"?
Przez osiem lat, zanim urodziłam bliźniaki, byłam prawniczką. Miałam to szczęście, że mogłam pozwolić sobie na to, żeby zostać z nimi w domu. Zaczęłam pisać "Drzewo migdałowe" kiedy dzieci szły do pierwszej klasy.
Pani powieść świadczy o znakomitym opanowaniu pisarskiego rzemiosła. Czy podejmowała Pani wcześniej jakieś próby pisarskie?
Nie zostałam pisarką, żeby opowiadać historie. Zostałam pisarką, bo miałam historię do opowiedzenia. Niezależnie, czy zabrałoby mi to rok, czy pięćdziesiąt lat, nie miałam zamiaru odpuścić, dopóki nie opowiem tego w sposób, który dotrze do ludzi. Ukończenie "Drzewa migdałowego" zajęło siedem lat, w tym czasie wzięłam udział w dwadziestu jeden kursach pisania, a sam tekst przeszedł przez ręce sześciu redaktorów. Czekałam ponad dziesięć lat, żeby dotrzeć do ludzi, więc miałam zamiar zrobić wszystko, co konieczne, żeby opowiedzieć moją historię jak najlepiej.
Czy ogromny sukces Pani debiutanckiej powieści był dla Pani zaskoczeniem, czy raczej spełnieniem oczekiwań i przewidywań?
To było całkiem niespodziewane. Kiedy pisałam "Drzewo migdałowe", docelowymi czytelnikami byli Amerykanie, zwłaszcza żydzi. Stany Zjednoczone wspierają Izrael wojskowo i dyplomatycznie, a także finansowo, dając mu ponad trzy miliardy dolarów rocznie. W trakcie rządów Reagana Ameryka wspierała apartheid w RPA. Popierający apartheid dyplomata powiedział dyplomacie amerykańskiemu, że to nic nie szkodzi, że cały świat jest przeciwko apartheidowi, ponieważ dopóki mają poparcie USA, nie potrzebują nikogo więcej. Wydaje mi się, że sytuacja z Izraelem jest podoba. Brakuje nam w Stanach świadomości, co jest prawdą. Jesteśmy bombardowani syjonistyczną propagandą. Kiedy więc pisałam "Drzewo migdałowe", nie przypuszczałam, że zyska ono międzynarodowy rozgłos.
Setki recenzentów porównywało "Drzewo migdałowe" do Chłopca z latawcem. Moim zdaniem Khaledowi Hosseiniemu udało się sprawić, że czytelnik spojrzał na świat oczyma Afgańczyka. Za pomocą porywającej opowieści pokazał nam kawałek nieznanego nam jak dotąd świata. W "Drzewie migdałowym" próbowałam sprawić, żeby czytelnik spojrzał na świat moimi oczami, żeby mógł doświadczyć tego, czego byłam świadkiem i czego się nauczyłam.
W wielu wywiadach mówiła Pani, że do napisania powieści zainspirował Panią właśnie "Chłopiec z latawcem" Khaleda Hosseiniego. Jacy jeszcze pisarze Panią inspirowali? U których podpatrywała Pani tajniki pisarskiego warsztatu?
Moją wielką inspiracją była "Chata wuja Toma" – powieść napisana przez białą kobietę, opowiedziana głosem czarnoskórego niewolnika. Podobno prezydent Lincoln powiedział, że Stowe, autorka książki, przyczyniła się do wybuchu wojny domowej, która położyła kres niewolnictwu. Potrzebowałam jakiegoś wzorca. Powieść Stowe zaczyna się w Kentucky, stanie, w którym niewolników traktowano wyjątkowo łagodnie, ponieważ nowe pojęcia należy wprowadzać stopniowo. Gdyby zaczęła w Luizjanie, dla czytelników jej współczesnych mogłoby to być za trudne. Uważała również, że białe kobiety będą miały więcej współczucia dla niedoli niewolników, dlatego wymyśliła postać taką jak Ewa, która jest piękna, delikatna, i która jest przeciwko niewolnictwu. Była osobą, którą czytelniczki mogły chcieć naśladować. Używała też chrześcijaństwa jako swoistego pomostu. Takie elementy "Chaty wuja Toma" wpłynęły na mnie.
Inspiruje mnie też Karol Dickens, ponieważ jest świetny w opisywaniu paskudnych warunków. Dalej "Płacz, ukochany kraju", książka napisana przez białego pisarza z RPA, której narrator jest czarny. "Zabić drozda" Harper Lee. Oprócz klasyków, czytam wiele bestsellerów, żeby wiedzieć, co się czyta obecnie.
Czy wśród Pani lektur znalazły się książki polskich autorów?
Ulubioną książką mojego męża jest "Jądro ciemności" Josepha Conrada. Inni znani mi autorzy to Szalom Asz i Issac Bashevis Singer. Skończyłam arabistykę, więc czytam wielu autorów arabskich i żydowskich. Leon Uris był także w połowie Polakiem. Chętnie przyjmę jakieś sugestie. Czytam wiele książek, których akcja toczy się w Polsce, ale zdecydowanie za mało autorstwa polskich pisarzy.
---
Read the original interview on http://lubimyczytac.pl/aktualnosci/rozmowy/4211/przeczytaj-wywiad-z-michelle-cohen-corasanti
English Google Translated Version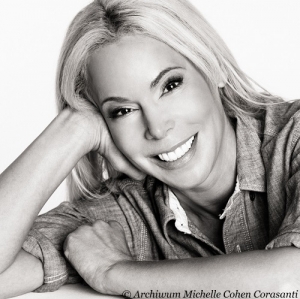 Michelle Cohen Corasanti –  born in the USA in 1966, in a conservative Jewish family, is a graduate of Middle East studies at the Universities of Jerusalem and Harvard. Lawyer specializing in international law and human rights. She lived in France, Spain, Great Britain, Egypt and Israel. almond tree with 2012 her debut as a writer who appeared in Poland published by Sine Qua Non, under the auspices of our site.
Is this you first visit to Poland, and is it true that you have Polish roots?
Yes, this is my first visit to Poland. I am the origin Pole in one quarter or three quarters – depends on whether Bialystok, from which great-grandparents came from my father considered part Polish. My great-grandparents came to the United States in the late nineteenth century. Paternal great-grandparents were bakers in Bialystok. Three generations of my family led a bakery in the Polish district of New York. Here where I live in the U.S. we have a large Polish community.
Could you briefly tell what you dealt with in recent years, ie, before the release of "almond tree"?
For eight years before I gave birth to twins, I was a lawyer. I was lucky that I could afford to stay home with them. I started writing "Almond Tree" when the children went to the first class.
Mrs. novel demonstrates excellent mastery of clerical craft. Do you undertook before any attempt clerical?
I was not a writer, to tell stories. I became a writer because I had a story to tell. Whether it would take me a year or fifty years, I was not going to let go until you tell it in a way that reaches people. Completion of "almond tree" It took seven years, during which time I took part in dwadziestu one writing courses, and the text has passed through the hands of six editors. I've waited more than ten years to reach out to people, so I'm going to do everything necessary to tell my story as well.
Are you a huge success debut novel was a surprise for you, or rather the fulfillment of expectations and predictions?
It was quite unexpected. When I wrote "Almond Tree", target readers were Americans, especially Jews. United States support Israel militarily and diplomatically, as well as financially, giving him more than three billion U.S. dollars a year. During the Reagan supported the apartheid America in South Africa. Support of apartheid diplomat said the U.S. diplomat that it does not matter that the whole world is against apartheid, as long as they have the support of the United States, do not need anyone else. It seems to me that the situation with Israel is like. We lack in the United consciousness, which is true. We are bombarded by Zionist propaganda. So when I wrote "Almond Tree", did not think that it will gain international acclaim.
Hundreds of reviewers compared the "almond tree" to the boy with a kite . In my opinion, Khaled Hosseiniemu managed to make the reader look at the world through the eyes of an Afghan. Using the thrilling story showed us a bit of an unknown to us so far in the world.The "Tree almond" I tried to make that the reader look at the world through my eyes, so he could experience what I witnessed and what I've learned.
In many interviews you said that to write a novel inspired Lady's "The Kite Runner" Khaled Hosseini. What other writers Ms. inspired? In which you spied secrets clerical workshop?
My big inspiration was "Uncle Tom's Cabin" – a novel written by a white woman, told the voice of black slave. Apparently, President Lincoln said that Stowe, author of the book, contributed to the outbreak of the civil war that put an end to slavery. I needed a pattern.Stowe's novel begins in Kentucky, a state in which slaves were treated very gently, as new concepts should be introduced gradually. If she started in Louisiana, for the readers of her contemporaries could be difficult. Also believed that white women will have more compassion for the misery of slaves, therefore, invented a form such as Eve, which is beautiful, delicate, and who is against slavery. She was a person that readers may wish to emulate. She used it as a kind of bridge Christianity. Such elements of "Uncle Tom's Cabin" influenced me.
I am inspired by Charles Dickens also because it is great at describing the nasty conditions.Next "Cry, the Beloved Country", a book written by a white writer from South Africa, where the narrator is black. "To Kill a Mockingbird" Harper Lee. In addition to the classics, I read many bestsellers, to know what to read now.
Are you among you were reading books by Polish authors?
My husband's favorite book is "Heart of Darkness" by Joseph Conrad. Other well-known authors that I Sholem Asch and Isaac Bashevis Singer. I finished Arabic studies, so I read many Arab and Jewish authors. Leon Uris was also half Polish. We are happy to accept any suggestions. I read a lot of books, where the action takes place in Poland, but not enough by Polish writers.