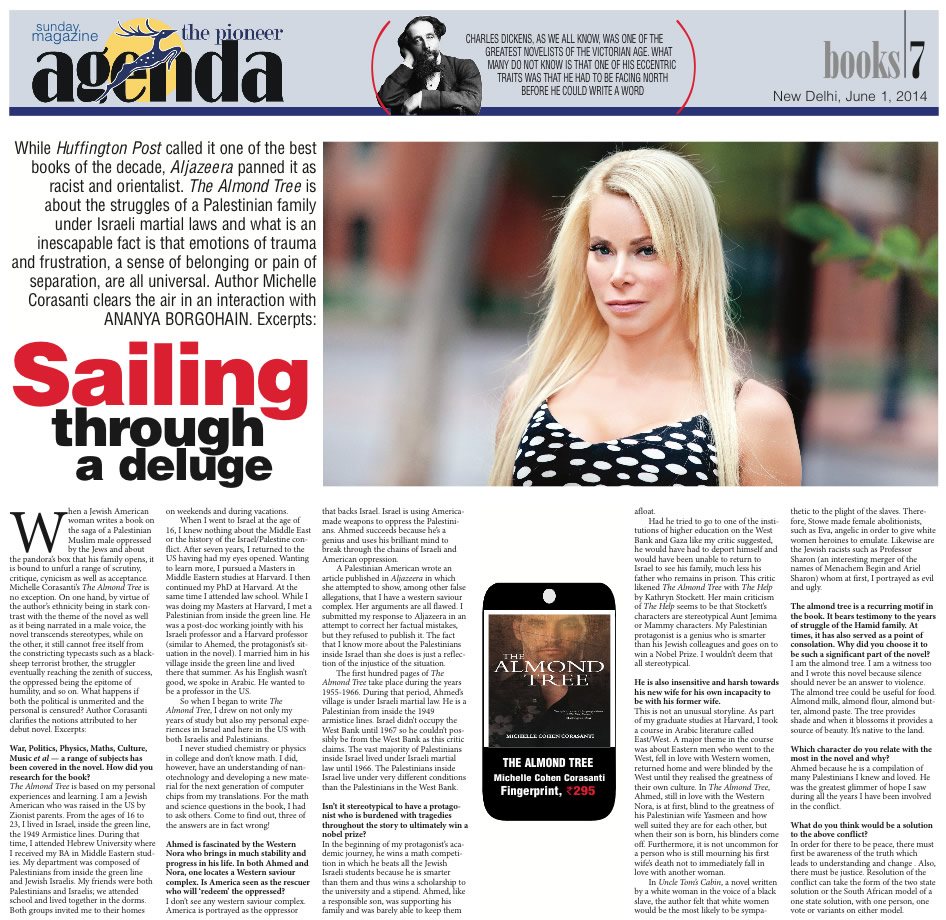 While Huffington Post called it one of the best books of the decade, Aljazeera panned it as racist and orientalist. The Almond Tree is about the struggles of a Palestinian family under Israeli martial laws and what is an inescapable fact is that emotions of trauma and frustration, a sense of belonging or pain of separation, are all universal. Author Michelle Corasanti clears the air in an interaction with ANANYA BORGOHAIN. Excerpts:
When a Jewish American woman writes a book on the saga of a Palestinian Muslim male oppressed by the Jews and about the pandora's box that his family opens, it is bound to unfurl a range of scrutiny, critique, cynicism as well as acceptance. Michelle Corasanti's The Almond Tree is no exception. On one hand, by virtue of the author's ethnicity being in stark contrast with the theme of the novel as well as it being narrated in a male voice, the novel transcends stereotypes, while on the other, it still cannot free itself from the constricting typecasts such as a blacksheep terrorist brother, the struggler eventually reaching the zenith of success, the oppressed being the epitome of humility, and so on. What happens if both the political is unmerited and the personal is censured? Author Corasanti clarifies the notions attributed to her debut novel. Excerpts:
War, Politics, Physics, Maths, Culture, Music et al — a range of subjects has been covered in the novel. How did you research for the book?
The Almond Treeis based on my personal experiences and learning. I am a Jewish American who was raised in the US by Zionist parents. From the ages of 16 to 23, I lived in Israel, inside the green line, the 1949 Armistice lines. During that time, I attended Hebrew University where I received my BA in Middle Eastern studies. My department was composed of Palestinians from inside the green line and Jewish Israelis. My friends were both Palestinians and Israelis; we attended school and lived together in the dorms. Both groups invited me to their homes on weekends and during vacations.
When I went to Israel at the age of 16, I knew nothing about the Middle East or the history of the Israel/Palestine conflict. After seven years, I returned to the US having had my eyes opened. Wanting to learn more, I pursued a Masters in Middle Eastern studies at Harvard. I then continued my PhD at Harvard. At the same time I attended law school. While I was doing my Masters at Harvard, I met a Palestinian from inside the green line. He was a post-doc working jointly with his Israeli professor and a Harvard professor (similar to Ahemed, the protagonist's situation in the novel). I married him in his village inside the green line and lived there that summer. As his English wasn't good, we spoke in Arabic. He wanted to be a professor in the US.
So when I began to write The Almond Tree, I drew on not only my years of study but also my personal experiences in Israel and here in the US with both Israelis and Palestinians.
I never studied chemistry or physics in college and don't know math. I did, however, have an understanding of nanotechnology and developing a new material for the next generation of computer chips from my translations. For the math and science questions in the book, I had to ask others. Come to find out, three of the answers are in fact wrong!
Ahmed is fascinated by the Western Nora who brings in much stability and progress in his life. In both Ahmed and Nora, one locates a Western saviour complex. Is America seen as the rescuer who will 'redeem' the oppressed?
I don't see any western saviour complex. America is portrayed as the oppressor that backs Israel. Israel is using America-made weapons to oppress the Palestinians. Ahmed succeeds because he's a genius and uses his brilliant mind to break through the chains of Israeli and American oppression.
A Palestinian American wrote an article published in Aljazeera in which she attempted to show, among other false allegations, that I have a western saviour complex. Her arguments are all flawed. I submitted my response to Aljazeera in an attempt to correct her factual mistakes, but they refused to publish it. The fact that I know more about the Palestinians inside Israel than she does is just a reflection of the injustice of the situation.
The first hundred pages of The Almond Tree take place during the years 1955-1966. During that period, Ahmed's village is under Israeli martial law. He is a Palestinian from inside the 1949 armistice lines. Israel didn't occupy the West Bank until 1967 so he couldn't possibly be from the West Bank as this critic claims. The vast majority of Palestinians inside Israel lived under Israeli martial law until 1966. The Palestinians inside Israel live under very different conditions than the Palestinians in the West Bank.
Isn't it stereotypical to have a protagonist who is burdened with tragedies throughout the story to ultimately win a nobel prize?
In the beginning of my protagonist's academic journey, he wins a math competition in which he beats all the Jewish Israeli students because he is smarter than them and thus wins a scholarship to the university and a stipend. Ahmed, like a responsible son, was supporting his family and was barely able to keep them afloat.
Had he tried to go to one of the institutions of higher education on the West Bank and Gaza like my critic suggested, he would have had to deport himself and would have been unable to return to Israel to see his family, much less his father who remains in prison. This critic likened The Almond Tree withThe Help by Kathryn Stockett. Her main criticism of The Help seems to be that Stockett's characters are stereotypical Aunt Jemima or Mammy characters. My Palestinian protagonist is a genius who is smarter than his Jewish colleagues and goes on to win a Nobel Prize. I wouldn't deem that all stereotypical.
He is also insensitive and harsh towards his new wife for his own incapacity to be with his former wife.
This is not an unusual storyline in novels, films, and plays about arranged marriages and indeed as part of my graduate studies at Harvard, I took a course in Arabic literature called East/West. A major theme in the course was about Eastern men who went to the West, fell in love with Western women, returned home and were blinded by the West until they realised the greatness of their own culture. In The Almond Tree, Ahmed is, at first, blinded (by the West which his first wife Nora symbolises) to the greatness of his Palestinian wife Yasmeen and how well suited they are for each other, but when their son is born, his blinders come off. Furthermore, it is not uncommon for a person who is still mourning his first wife's death not to immediately fall in love with another woman.
In Uncle Tom's Cabin, a novel written by a white woman in the voice of a black slave, the author felt that white women would be the most likely to be sympathetic to the plight of the slaves. Therefore, Stowe made female abolitionists, such as Eva, angelic in order to give white women heroines to emulate. Likewise are the Jewish racists such as Professor Sharon, whom at first, I portrayed as evil and ugly.
The almond tree is a recurring motif in the book. It bears testimony to the years of struggle of the Hamid family. At times, it has also served as a point of consolation. Why did you choose it to be such a significant part of the novel?
I am the almond tree. I am a witness too and I wrote this novel because silence should never be an answer to violence. The almond tree could be useful for food. Almond milk, almond flour, almond butter, almond paste. The tree provides shade and when it blossoms it provides a source of beauty. It's native to the land.
Which character do you relate with the most in the novel and why?
Ahmed because he is a compilation of many Palestinians I knew and loved. He was the greatest glimmer of hope I saw during all the years I have been involved in the conflict.
What do you think would be a solution to the above conflict?
In order for there to be peace, there must first be awareness of the truth which leads to understanding and change. Also, there must be justice. Resolution of the conflict can take the form of the two state solution or the South African model of a one state solution, with one person, one vote or variants on either model.
---
Original interview and discussion on the Sunday Edition website:
http://www.dailypioneer.com/sunday-edition/agenda/books/sailing-through-a-deluge.html